10,000-Year-Old Sunken Monolith From An Unknown Civilization Discovered In The Mediterranean

10,000-Year-Old Sunken Monolith From An Unknown Civilization Discovered In The Mediterranean
Researchers have discovered a colossal 10,000-year-old monolith in the Mediterranean.
The mysterious structure is incredible and is described as a "unique and significant structure", say authors Zvi Ben-Avraham from the Department of Earth Sciences at Tel Aviv University, and Emanuele Lodolo, from the Istituto Nazionale di Oceanografia e di Geofisica Sperimentale (OGS) in Trieste, Italy.
A giant monolith with three mysterious "drill holes" was found at the bottom of the Mediterranean near the island of Sicily. The gigantic monolith has scientists perplexed.
After a series of tests, they believe the structure was placed at its current position about 10,000 years ago.
The intriguing finding is about 40 meters deep in the mediterranean sea, in an area that was, in the early Mesolithic period an area clear of the water.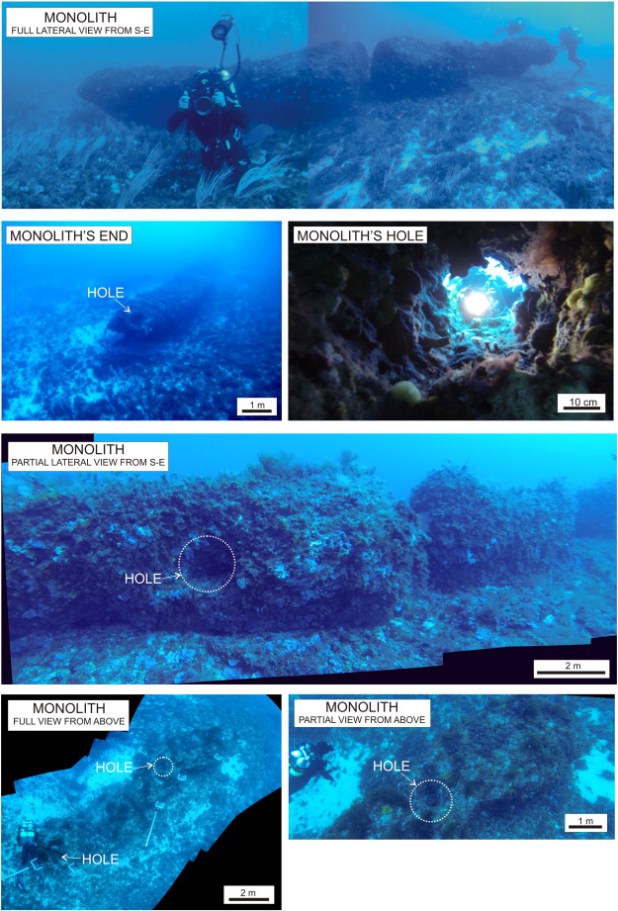 The monoliths measures around 12 meters long and are split into two pieces, and despite being covered with algae and sediments, it's clearly visible that the main drilling hole goes through the entire axis of the monolith longitudinally. The other two holes are located on its side.
After examining the megalith, a group of researchers led by oceanographer and geophysicist Emanuele Lodolo Zvi Ben-Avrahamb has not been able to determine what the mysterious structure was used for.
However, in a study recently published in the Journal of Archaeological Science, an article clearly shows that the monolith was cut, removed from its quarry site, moved and put into place at its current position at a time when humans had at their disposal very primitive tools.
Therefore, researchers say, the discovery could:
"Considerably expand their knowledge of the earliest civilizations of the Mediterranean and views on the technological innovations and the degree of development of the inhabitants of the Mesolithic era".
"What is more surprising, and until recently poorly recognised, is that an extensive archaeological record of early settlements still remains on the sea floor of our continental shelves… The vast majority of marine geophysicists and archaeologists have now realised that to trace the origins of civilisation in the Mediterranean region, it is necessary to focus research in the now submerged shelf areas."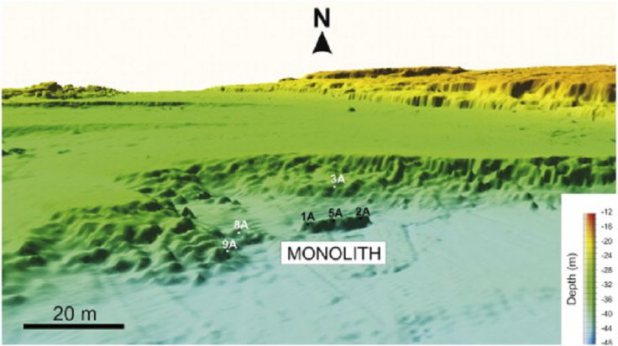 Currently, all we know about prehistoric cultures comes mostly from settlements located on the mainland 10,000 years ago, far away from the coast, just like Göbekli Tepe, near the current Turkish-Syrian border.
"The monolith found, made of a single, large block, required a cutting, extraction, transportation and installation, which undoubtedly reveals important technical skills and great engineering. The belief that our ancestors lacked the knowledge, skill and technology to exploit marine resources or make sea crossings, must be progressively abandoned.
"The recent findings of submerged archaeology have definitively removed the idea of 'technological primitivism' often attributed to hunter-gatherers coastal settlers."
So there you have it, another incredible structure that seems to question our history books, which clearly suggest that ancient humans were not capable nor prepared for cutting, moving and creating such complex structures.