2,700 Year Old Yogi in Samadhi Found in Indus Valley Civilization Archaeological Site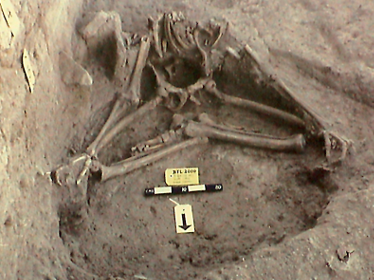 2,700 Year Old Yogi in Samadhi Found in Indus Valley Civilization Archaeological Site
An Indus Valley civilization archaeological site in Rajasthan has uncovered the 2,700-year-old skeletal remains of an ancient yogi seated in samadhi.
Many seals from the Indus Valley represent yogis in the lotus position. Here are two examples of ancient yogis sitting in meditation with their hands on their knees, close to how modern yoga meditations are performed. If we look at the yogi's skeletal remains above, we can see that his fingers are in gyana mudra (thumb touching index finger) and that he is lying on his knees.
Balathal is an archaeological site in Rajasthan's western state of Rajasthan, situated in the Vallabhnagar tehsil of the Udaipur district. V. N. Misra discovered this site during a survey in 1962-63, 6 km from Vallabhnagar town and 42 km from Udaipur district.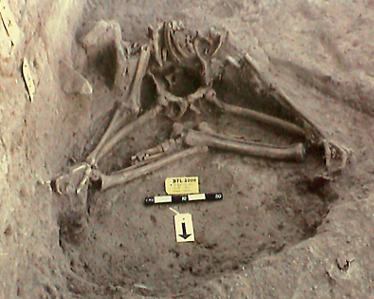 Excavation began in 1994 jointly by the Department of Archaeology of the Deccan College Post-graduate and Research Institute, Pune and the Institute of Rajasthan Studies, Udaipur.
Excavation of sites from the 4,500 year old Ahar culture provide clues to the link between the Harappans and their predecessors.
That it existed at all was a surprise a fortified enclosure of mud and brick, comparable to the citadels of the Harappans, spread over 500 sq m. It was filled with ash and cowdung. A people called the Ahars had built it in Balathal near modern Udaipur some 4,500 years ago.
Carbon dating established that they had lived in and around the Mewar region in Rajasthan between 3,500 and 1,800 B.C. They were Mewars first farmers, older even than the Harappans. But why had they built a fort only to fill it with ash and cowdung? To solve the mystery, a team of Indian archaeologists excavating the site went on removing layer after layer of civilisation.
The mystery deepened. They found five skeletons, four in layers between 2,000 B.C. and 1,800 B.C. That was the age of stone and copper, the chalcolithic age. This was the first time human skeletons had been found at any Ahar site. The Ahars, it had been thought, cremated their dead. And the Harappans buried theirs.
There are 90 sites of Ahar a rural society. The recent round of excavations is establishing that Ahar culture and Harappan civilisation were different though contemporary and related. This village life emerged much before the mature Harappan era.
Harappas progress in the mature Harappan period (2,500 B.C.) helped the rural Ahar people to flourish and develop their own township and stone and brick houses. On the scale of civilisation, they emerged far ahead of other chalcolithic cultures in the subcontinent.
And they may be the missing link to show how the Indus people made such a quantum leap from small rural communities to an advanced civilisation.
Ahar culture flourished predominantly in the Mewar region of Rajasthan, on the eastern side of the Aravallis, and in undulating rocky plateaus and plains along the Banas river and its tributaries.
In modern Rajasthan, Ahar sites have been reported in Udaipur, Chittorgarh, Dungarpur, Bhilwara, Rajsamand, Bundi, Tonk and Ajmer dotting10,000 sq km. There is a commonality in all 90-sites located in Southeastern Rajasthan and parts of Madhya Pradesh, says Jaipur-based Rima Hooja, a scholar on Ahar culture.
Their name comes from a mid-1950s excavation led by R.C. Aggarwal, former director of archaeology, Rajasthan, at Ahar near Udaipur. A few years later, one excavation was carried out at Gilund in Rajsamand and then the focus shifted to the Harappans.
The Deccan College, Pune and Institute of Rajasthan Studies, Rajasthan Vidyapeeth, Udaipur turned their attention to Ahar culture in 1994 and began excavations in Balathal. Deccan College and the University of Pennsylvania began digging in Gilund in 1999 and the Jaipur circle of Archaeological Survey of India (ASI) began excavation at Ojiyana in Bhilwara in 2000. And discoveries began pouring in.
Gwen Robbins, a biological anthropologist from the University of Oregon, USA, in her ongoing preliminary analysis of the bones, found the first skeleton uncovered was of a male.
Dead at the age of 50, he suffered from joint disease and had lost all but four of his teeth at least five years before death. On closer inspection of the remains, a left mandible and a few cranial fragments were found to be of a second individual aged 35 whose sex couldn't be determined.
The third skeleton was of a female approximately 35 years of age. The fourth was of a 35-year-old woman, and it caught the archaeologists interest. It had been buried with a small earthen lota (pot) near the head. Why was the lota there? I am certain that the fortified enclosure had a ritual function, says Dr V.N. Mishra, former principal of the Deccan College, who led the excavations: You don't find such selective burials in cow dung and ash anywhere else.
The fifth skeleton, from a different era, was of an adult male 35 to 40 years old, and had been buried in a seated position that resembles the modern samadhi burial of sadhus who renounce the world. The ritual of burial in ash and cow dung raises the need to look at related traditions in present-day Hindu communities such as Gosain and Jogi which bury their dead.