9,000-Year-Old Hunting Camp and Iron Age Settlement Uncover in Road Works in Scotland
9,000-Year-Old Hunting Camp and Iron Age Settlement Uncover in Road Works in Scotland
During the construction of a new road in Wigtownshire, Scotland, a treasure trove of objects was discovered in Scotland, according to a study in The Scotsman .
A Mesolithic hunting settlement dating back to 7,000 BC, an Iron Age village, and numerous relics spanning thousands of years are part of the discovery.
The discovery was made in Dumfries and Gallway during the construction of the £ 17 million A75 Dunragit bypass. Transport Minister Keith Brown revealed complete descriptions of the findings made during the bypass planning and construction.
"The concentration of artifacts from the Mesolithic to post-medieval periods was highly unexpected, but gives an invaluable insight into the land use and settlement of south-west Scotland over the past 9,000 years," said Mr Brown.
The dwellings uncovered during the project are the earliest known Mesolithic dwellings in south west Scotland, and are believed to have been part of a small temporary hunting camp. Researchers also uncovered more than 13,500 Mesolithic flints. 
The Mesolithic period (9,000 – 4,500 BC) dates from the end of the last Ice Age and saw human groups spread throughout mainland and island Scotland. The people were hunter-gatherers, but they were also beginning to 'domesticate' animals such as cattle and sheep.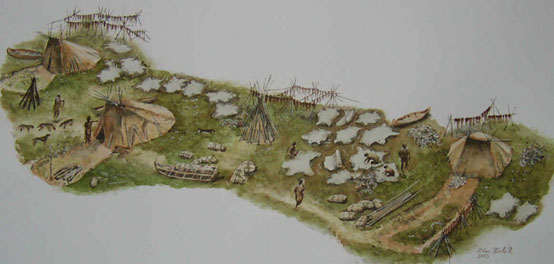 A 130-piece jet bead necklace dating back 4,000 years was of particular interest to archaeologists, who were able to trace its origin in Whitby, North Yorkshire, around 155 miles from where it was found.
"The necklaces are of particular interest because they are the first such necklaces to be uncovered in the south west of Scotland," said Mr Brown, who added that they are "truly remarkable" and helped "shine a light on Scotland's ancient past".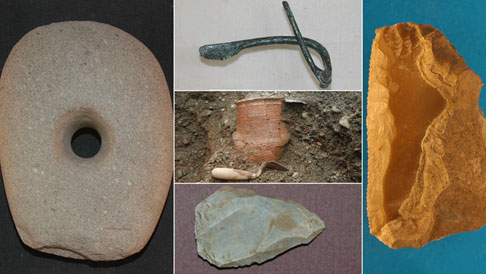 Other finds include a settlement and flint tools from the early Neolithic period (4,500 – 2,000 BC), a cemetery complex, cremation urns, stone-lined cist burials and grave goods from the Bronze Age (2,500 – 800 BC), and six roundhouses and pottery from the Iron Age (800 BC – 500 AD). The discovery sheds new light on land use and settlement in the area over the past 9,000 years.