Archaeological finding in house garden reveals unique mining engine

18th Century Potter Atmospheric Steam Engine Found In Slovakia
A group of archaeologists accompanied by forty and 40 volunteers revealed the foundation of an atmospheric steam engine, long hidden in the garden of one house.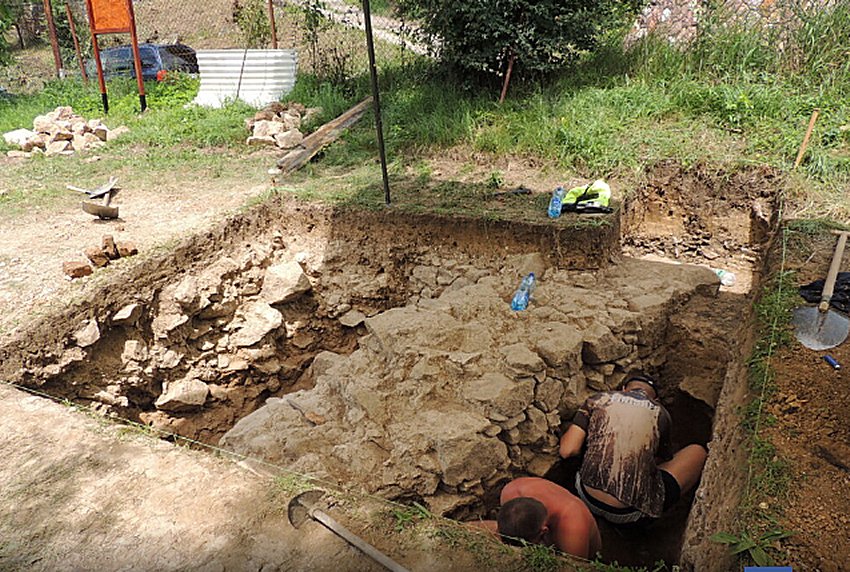 The engine (built by Isaac Potter in 1722) is considered the first of its kind in Europe. The atmospheric steam machine is located in the Althandel shaft on a mining site in Nová Baňa, a small town that was a royal mining town in 1345 and a popular among the German miners.
During the 15th century, mining activity declined due to groundwater problems in the mines which had a negative impact on further mining development.
The flooded mining works were to be saved by an atmospheric fire source designed and built by Potter.
In 1887, however, the mines were closed down due to unprofitability.
"In two weeks, we succeeded in uncovering the entire measurement of the Potter engine room, about eight and 14 meters," Matej Styk, an expert from the Department of Archaeology of the Constantine the Philosopher University in Nitra said, as quoted by the TASR newswire.
He added that the masonry is bigger than anticipated, compact, undamaged, located about 30 to 40 centimeters under the ground surface.
Thanks to research, they can prove that activities were ongoing not only in the 18th but also in the 19th century.
In the interior of the engine room, the bases of another construction were found, about which there was no knowledge until now, reports The Slovak Spectator.
"There were many tiles from a stove inside, and we think that the building was wooden. It has a stone foundation wall and inside another production activity was ongoing," Styk explained.
Additionally, the archaeologists found a mining button from probably the 19th century, a pipe or various iron nails and components.
The steam engine served to drainage of water from mine, and it was built by Isaac Potter in the Althandel shaft in the years 1721-1722," said Peter Konečný, the head of the Slovak mining archive in Banská Štiavnica.
"Isaac Potter operated this machine alongside his colleagues within the mining industry, which received the right to mine local ores, but mining was not successful, over in a few years and the machine put out of the operation."
As The Slovak Spectator writes, there are plans to build a replica of the machine.