Cat paw print discovered on Gloucester Roman roof tile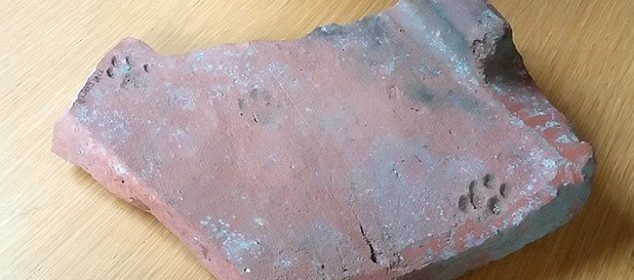 Cat paw print discovered on Gloucester Roman roof tile
On a 2000-year-old roof tile, paw prints made in Roman times by an impetuous cat were discovered. The tile was originally dug out in Gloucester in the 1960s, but the cute prints have only just come to light.
A domestic cat – probably the companion of a Roman soldier stationed at the site – is assumed to have printed when the tile dried in the sun, nearly 100 AD.
The tile, a flat type called tegula, is used on the roof of a building in modern Gloucester's Berkeley Street area, a museum spokesman said.
It was one of 'tonnes' of tiles unearthed during a dig on the street 1969. 'Recently archaeologists have started going through the boxes of tiles and picked out this one with interesting prints,' City Museum Curator David Rice told BBC.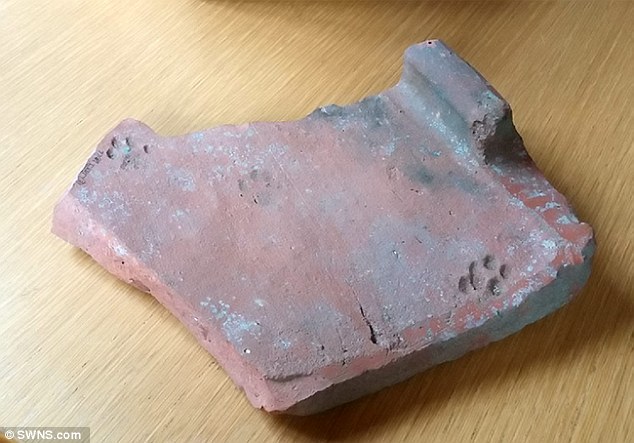 To make the tile, a Roman would have created the shape from wet clay and left it to dry in the sun, he said, explaining the underside of tegulae often bear a rough imprint of the ground.
'Animals, and people, sometimes walked across the drying tiles and left their footprints behind. 'The cat is thought to have snuck across the wet tiles in Gloucester in about AD 100, probably at the annoyance of the tile makers, but this did not stop the Romans from using the tile.
'They would have fired the tile afterwards, perhaps not giving the print much thought because it would be on the top of a roof,' he said.
Mr Rice said that dog prints are thought to be the most common impression left on Roman tiles, but that there were lots of cats in Gloucester and Britain during Roman times, unlike in Italy.
'Gloucester is a Roman Army town, so it the cat that left its print may have been an army cat,' he said.
He explained that it's possible the marks were made by a pet because they are small and more befitting of a domestic cat than a wild cat. 'Gloucester was a Roman port so there were ships coming in, probably with lots of rats and mice on them. Cats would have been useful,' he added.
Councillor Lise Noakes, cabinet member for culture and leisure at Gloucester City Council said, 'Dog paw prints, people's boot prints and even a piglet's trotter print have all been found on tiles from Roman Gloucester, but cat prints are very rare.' The tile has gone on display at the city's museum.
Subscribe to our newsletter!
ROMAN TEENAGER LEFT HIS MARK ON TILE FOUND NEAR HADRIAN'S WALL
A Roman tile bearing a clear imprint of a naked foot was last month discovered close to Hadrian's Wall.
It's the first human footprint to have been found at the fortified settlement of Vindolanda and is thought to have been made 2,000 years ago.
The size of the partial print of a right foot indicates it was made by a teenager between 160 and 180 AD, either by accident or as an act of mischief.
Although it has not been confirmed that the teenager was a soldier, men were able to join the military between the ages of 16 to 50.
Dr Alexander Meyer,of the University of Western Ontario, said: 'I imagine the boy or girl who stepped in this newly produced tile was in more than a little trouble'.
Many thousands of tiles have been unearthed at the fortified settlement near the modern village of Bardon Mill in Northumberland.
Romans were stationed there to be close to Hadrian's Wall where they defended their land from the Picts and guarded a Roman road named Stangate that ran from the River Tyne to Solway Firth.
Some tiles found there occasionally have imprints left behind by animals than ran over them while they were drying.
Subscribe to our newsletter!