Ear from a Roman statue found in North Yorkshire
Ear from a Roman statue found in North Yorkshire
A bronze ear believed to have fallen off from a Roman statue has been discovered 1,800 years after it was presumed to be lost.
A metal detectorist found the three-inch (eight-centimetre) long fragment in a field near Catterick, North Yorkshire. It is one of the oldest relics of its kind ever discovered in Britain.
Experts believe the ear was broken off of a statue being transported along Dere Street, which runs parallel to the A1 today.
The detectorist documented the find with the Portable Antiquities Scheme, a recorder of archaeological objects found by members of the public. The organisation confirmed that the bronze ear dates back to 200AD, the time of the early Roman Empire.
Mark Jones, an auctioneer at Tennants Auctions of Leyburn, North Yorkshire, said: 'This is an incredibly rare and unusual full size ear dating all the way back to the early Roman Empire. 'The level of craftsmanship is very high, which would indicate it came from a larger piece like a life size statue.
'What I find to be particularly exciting about the find is that its emergence indicates there was indeed such a sculpture of such grand scale on these shores at that time.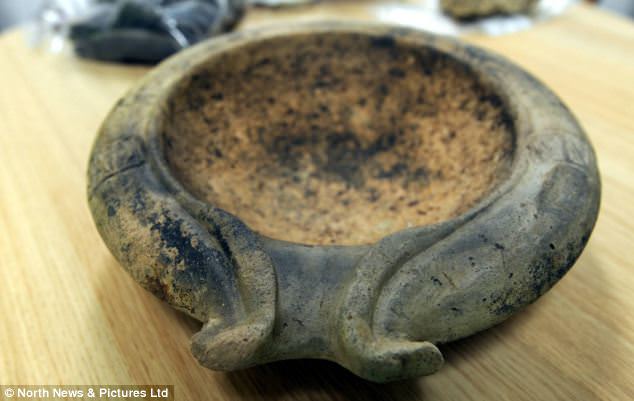 'There is of course the possibility someone brought this back with them from Rome but in all likelihood it came from a statue. '
The ear was dug up in the village of Brompton-on-Swale, close to Roman fort and settlement Cataractonium, today known as Catterick.
Mr Jones added: 'There's much intrigue as to how something like this would come to be buried in Brompton-on-Swale, and while we never know, it's interesting to theorise.
'Due to the unique nature of the item we placed a conservative estimate on it, but I'd expect it to do far better.
'How much better I'm not sure but something this old is always likely to turn heads.' The Roman relic will be sold tomorrow for an estimated £300 ($373).
The ear was found near Dere Street, which was built by the Romans and runs alongside the modern A1.
Experts have previously dug up a Roman town located by the road near to the River Swale, called Cataractonium. They have so far discovered evidence of Iron Age, Mesolithic and Neolithic settlements.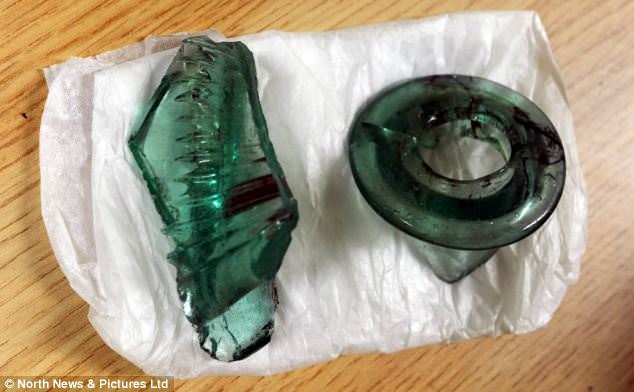 Steve Sherlock, an archaeologist who has excavated the road, said: 'The road scheme is 12 miles (19km) long and we are investigating a number of different sites.
'It was fascinating to find that one of those was in fact a Mesolithic site, a further 8,000 years into the past, beyond the Romans.
'We are still finding extremely clear evidence of how people used to live here almost 2,000 years ago during the Roman period.'
The team has discovered buildings on the edge of Dere Street, including shop frontages and even a bath house.  'We think this was a particularly industrial part of the town,' Mr Sherlock said.
'Finds during the excavations have included a complete Roman bowl called a Mortaria used for grinding herbs and spices.  'Another was Roman glass from a drinking vessel, found in Cataractonium.'