Etruscan Tomb Of Child Discovered In Vulci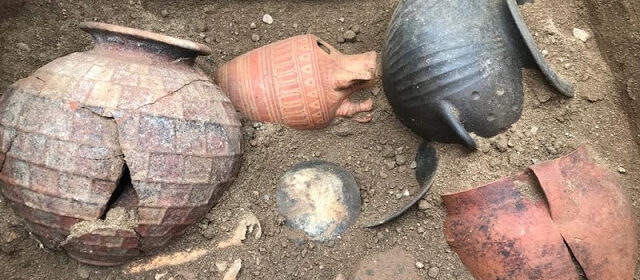 Etruscan Tomb Of Child Discovered In Vulci
During work at the Casaletto Mengarelli necropolis in Vulci, a new archaeological discovery was made. An intact burial was discovered dating back to the 6th-5th century BC, probably of an Etruscan child.
The burial contains a red tufa sarcophagus and is of a deep pit form. The lid, carefully carved from a single monolithic stone, has a tortoise shell-shaped upper section, while the recesses used for its placement are still clearly visible in the lower section.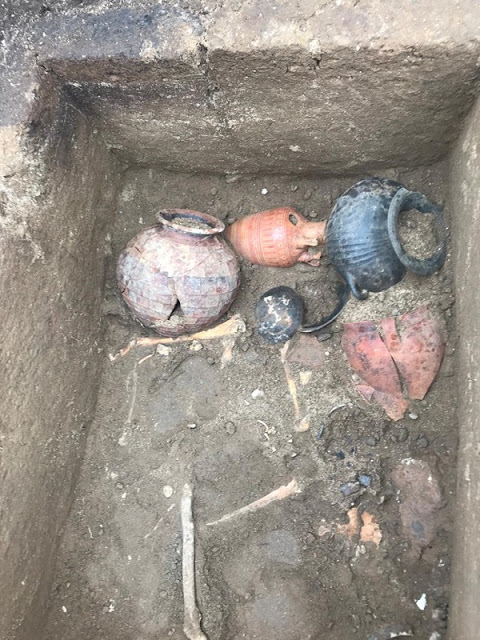 The tomb was reused in the Hellenistic period (4th-2nd century BC), when an adult person was placed on top of the older grave.
An amphora of figuline clay painted with geometrical motifs with miniature oinochoai mounted on the shoulder is the most significant item found inside the small chamber.
A rare shape that finds an interesting comparison, even if of a lower stylistic level, with an amphora from the so-called Tomb C of Mandrione di Cavalupo, today preserved in the Museum of the Badia di Vulci.
The only other existing comparison for this decorative apparatus is a krater, also coming from Vulci and exhibited at the Louvre Museum.
Judging from the small size of some bones that have survived the cremation ritual and the presence of a short iron spear the grave is probably that of a male child. Of particular interest is a situla (drinking vessel) made of figuline clay, completely covered with a layer of red paint.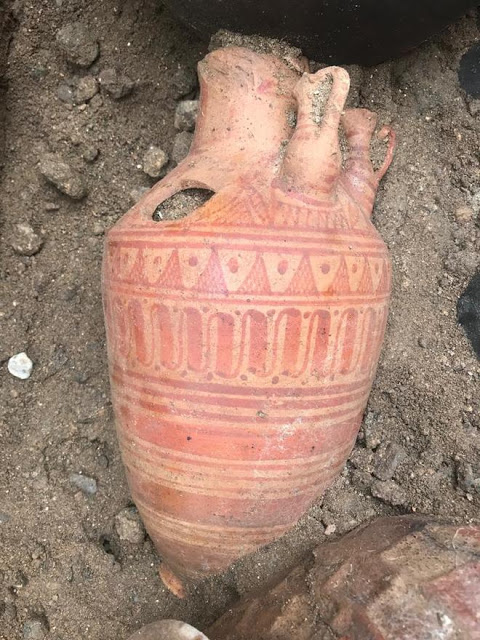 Other artefacts typical of the Vulci region of this period include a ridged ollae with lid. Some small personal objects such as ivory vases, bronze rings and chains were also found in the grave.
"This is a young member of the emerging Etruscan aristocracy of Vulci" explains Carlo Casi, scientific director of the Vulci Foundation. "This discovery allows us to unveil yet another small piece of the history of the first Etruscans of Vulci and beyond."
The excavation is conducted by the Soprintendenza Archeologia, Belle Arti e Paesaggio dell'Etruria meridionale in collaboration with the Vulci Foundation, the Municipality of Montalto di Castro and the Lazio Region.