Fascinating history buried deep below St Bride's Church, London.

Fascinating history buried deep below St Bride's Church, London.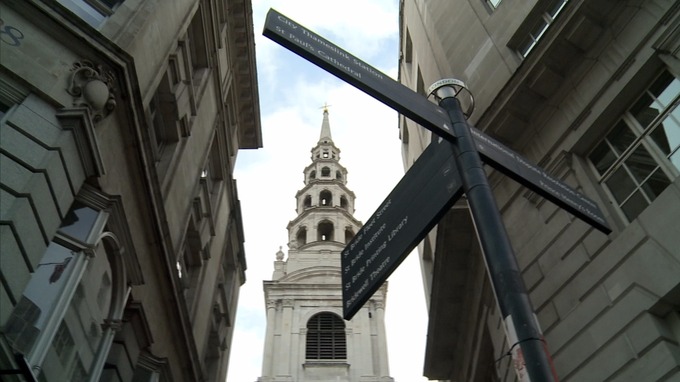 Designed by Christopher Wren in the late 17th century, St. Bride's Church is a familiar part of the London skyline and has long been known as the "journalists' church," thanks to its location in the traditional hub of the British newspaper industry.
One of its most intriguing features, however, had been completely forgotten until the church was gutted by German firebombs in World War II.
The current building is the eighth church to occupy the site on Fleet Street, with the first most likely being built in the 6th century by Irish missionaries.
A different incarnation subsequently built on the spot in the Middle Ages was destroyed in the Great Fire of London in 1666.
Wren was commissioned to design a replacement in 1672; the resulting church took seven years to build and ended up being one of the tallest and most expensive churches the architect ever built, second only to St. Paul's Cathedral.
The new church was built atop the remnants of the seven previous churches, including seven different crypts and two medieval charnel houses which Wren organized into one cohesive substructure.
The crypts regularly welcomed new inhabitants for almost another two centuries, right up to the 1854 cholera epidemic.
Faced with a growing pile of bodies and worried about spreading the disease further, Parliament ordered the closing of all London crypts. The ancient crypt beneath St. Bride's was sealed shut and subsequently forgotten.
In 1940, the Blitz inflicted severe fire damage on St. Bride's Church, leaving little more than a smoldering shell.
Once efforts to rebuild Wren's design got underway a decade later, the crowded burial chambers below were unexpectedly rediscovered by preparatory excavations in 1953.
The crypts were found to contain the remains of 227 individually identified people interred since the 17th century, as well as an estimated 7000 human remains in the more communal charnel house.
Where bones removed from the cemetery during the Middle Ages (in order to make room for new burials) were arranged according to type (skulls with skulls, femurs with femurs, etc.) and laid out in a checkerboard pattern to an as-yet-unknown depth.
St. Bride's more recent bone cache is concerned one of the best resources for historic forensics in Europe. The crypts are accessible only via guided tour.