Headless skeleton discovered in a well in a Roman Cemetery
Headless skeleton discovered in a well in a Roman Cemetery
A headless and legless skeleton at the bottom of a well in the centre of a Roman cemetery was found by archaeologists.
The well dates from the first or second century, so it slightly predates the nearby Roman cemetery. We presume, with the facts on display, that the man died and then was buried, instead of anything else.
"The gruesome discovery brings the skeleton tally to 116 on the historic site off Brunswick Road in Gloucester.
It seems that the skeleton, assumed to be an adult male, had been buried in the well, and his limbs and skull had decomposed long after his death.
Site manager Stuart Joyce, from Cotswold Archaeology, said: "The skull was missing, as were the lower limbs.
"The upper arms were also missing, but not the lower arms, which suggests the body parts decomposed after the body was buried.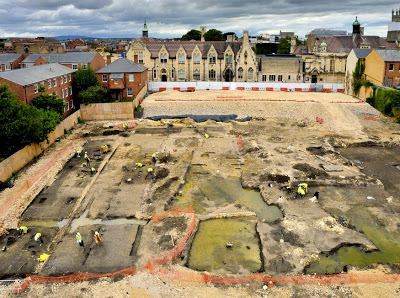 Nothing else was found in the well in terms of artifacts, but the find remains of great interest nonetheless.
"I don't know of any other find like this personally," added Mr Joyce. "I have seen animal remains in wells before where they have fallen in, but never human remains."
The skeleton, like all the others found on the site, will now be whisked away to be analysed by professionals before being returned to the City Museum.
The discoveries have been made during work on a £25 million development which will include 176 apartments and 78 houses.
Work is also being undertaken over the road at Greyfriars where more discoveries are anticipated.
Hugh Worsnip, of Gloucester Civic Trust, is fascinated by what is happening at the site.
He said: "It is extremely significant for Gloucester. Normally cemeteries are placed on roads leading out of cities, there is one over at London Road too. This is really confirming the work that has been done on the site in previous years. I am in no doubt that it will add to the collection already at the city museum."