Huge UK Archaeology Excavations Project Unearths Prehistoric, Roman, Anglo-Saxon, and Medieval Sites!
Huge UK Archaeology Excavations Project Unearths Prehistoric, Roman, Anglo-Saxon, and Medieval Sites!
A major archaeological project in the United Kingdom has uncovered Anglo-Saxon settlements, a Roman military camp, traces of a medieval village and a wealth of archaeological treasures. That's a lot for what first seemed like a flat  Cambridgeshire countryside!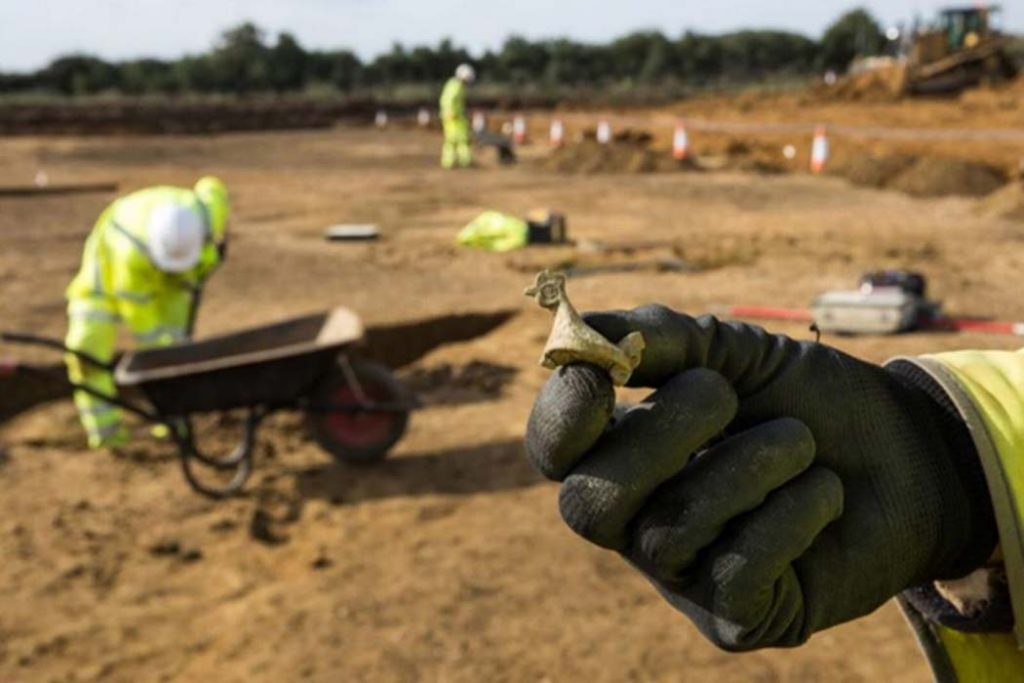 The Guardian reported that over the winter, more than 200 archaeologists have been working away on "scores of sites around an area of 21-mile Cambridgeshire countryside, the route of the construction of the A14 and the Huntingdon bypass," they will continue to do so through this summer.
According to Cambridge News, a 350-hectare area is being investigated by the team. They conduct 40 excavations in total. The features they have  find range from the remains of Roman pottery kilns to Anglo-Saxon settlements and a Medieval village.
Prehistoric burial grounds and henge monuments , as well as a couple of post-medieval brick kilns fill out what was once a very active region.
As for artifacts, Cambridge News makes note of seven tons of pottery, 6.5 tons of animal bones, prehistoric flint tools, and more than 7000 small finds such as personal objects.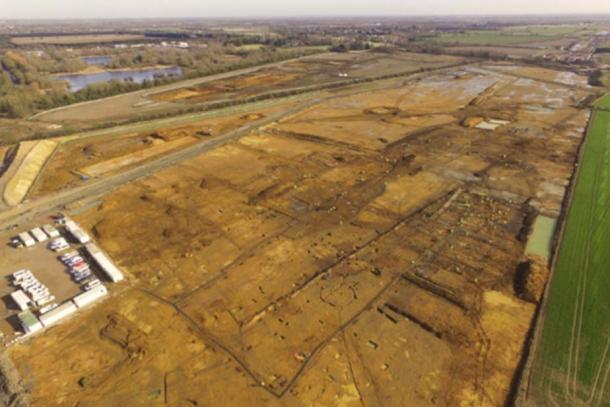 Those personal pieces include a late 2nd to 4th century AD Roman pendant of Medusa which may have been a protective amulet and a rare carved Anglo-Saxon bone flute dated to between the 5th to 9th century AD.
One surprise find is a well-preserved Middle Iron Age timber ladder from 500 BC. It was placed in a deep pit where archaeologists believe the owner would collect water or stir liquid with a wooden paddle which was discovered nearby.
Steve Sherlock, head archaeologist for Highways England, reflected on the significance of the discoveries so far,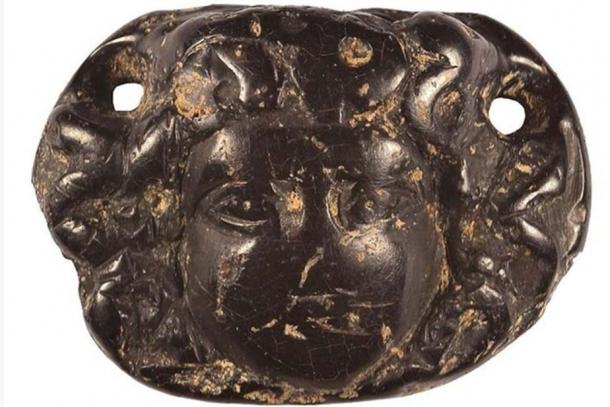 "There is not one key site but a whole expanse – the excavation has given us the whole of the English landscape over the past 6,000 years.
The Anglo-Saxon village sites alone are all absolute bobby dazzlers.
The larger monuments such as the henges and barrows show up in crop marks and geophysics, but you can only really see things like the post marks of timber buildings by getting down into the ground and digging.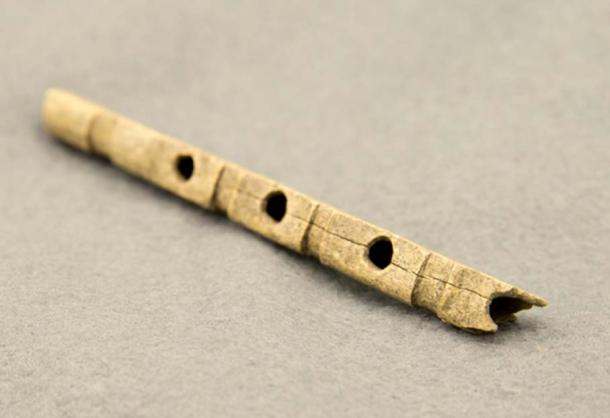 The workshops and animal enclosures give you an impression of the hard grind of everyday life, but when you get something like the bone flute you suddenly see into a world that also had art and music, dancing and entertainment."
The Guardian reports the layout of the sites shows that several were placed alongside a Roman road which is now under the A1.
However, there are also sites that cluster around the ancient barrows and henges.
Emma Jeffery, senior archaeologist from Mola Headland Infrastructure, has been working on the Medieval village site and had this to say ,
"The medieval village was occupied between the 12th and early 14th centuries, and the most likely explanation for its abandonment was that they lost the use of their woods when they were enclosed as a royal forest. At a stroke they lost their grazing, foraging and bark for uses such as tanning leather, so the economic justification for the village was gone."
Cambridgeshire County Council's senior archaeologist, Kasia Gdaniec, discussed how difficult, yet productive the work has been at the sites:
"The fast-paced archaeological excavations have been extremely challenging, especially during this relentlessly wet winter, but a very large, hardy team of British and international archaeologists successfully completed sites in advance of the road crews taking over to build the road structures. No previous excavation had taken place in these areas, where only a few cropmarked sites indicated the presence of former settlements, but we now know that extensive, thriving long-lived villages were built during the Bronze Age, Iron Age, Roman and Saxon periods."