Neanderthal Hand Axe Leads to Steppe Mammoth Graveyard

Neanderthal Hand Axe Leads to Steppe Mammoth Graveyard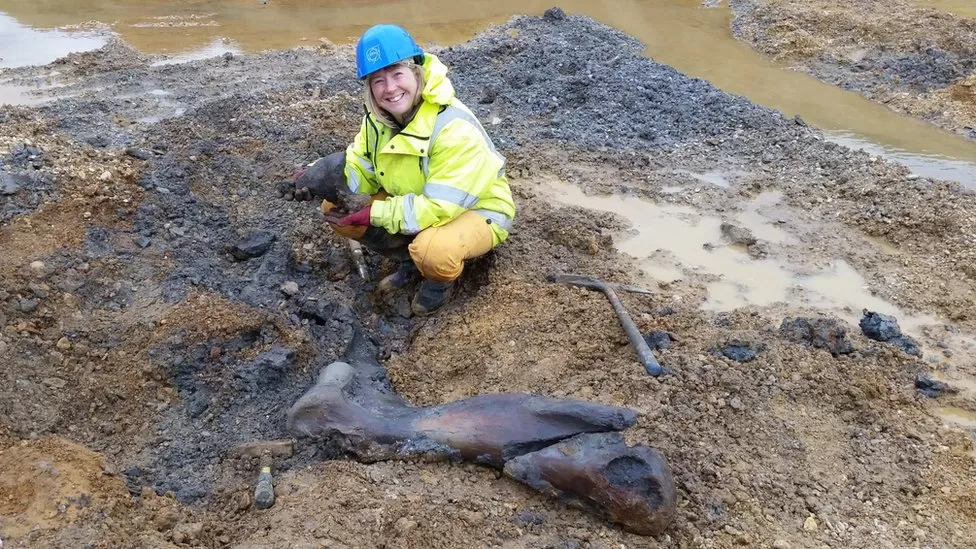 A fossil hunter says she still gets "goosebumps" when recalling unearthing a mammoth graveyard.
Sally Hollingworth and her husband Neville were hunting for marine fossils in Wiltshire when they came across the remains.
Their find will be discussed on a BBC programme featuring Sir David Attenborough.
Mrs Hollingworth said the couple used a Neanderthal hand axe found at the site to cut their wedding cake.
It was the discovery of the axe that led Mr and Mrs Hollingworth to believe they might have stumbled across a significant find.
In total, the remains of five mammoths – two adults, two juveniles and an infant – were discovered but Mr Hollingworth believes there may be many more animals buried at the site, near Swindon.
Mrs Hollingworth said they first spotted a "wood-like structure" sticking out of the ground and began digging around it.
"We started digging and realised it was the leg bone of a mammoth," she said.
Mr Hollingworth said the couple then realised there were "hundreds" of bone fragments and other mammoth remains at the site.
Archaeological experts DigVentures took over the site but Mrs Hollingworth says the moment she found the ancient axe still excites her.
"I'm holding this amazing axe in my hand. It had not been touched by another human being for 200,000 years," she said.
"It's still a goosebump moment now, I can still remember the feeling I had."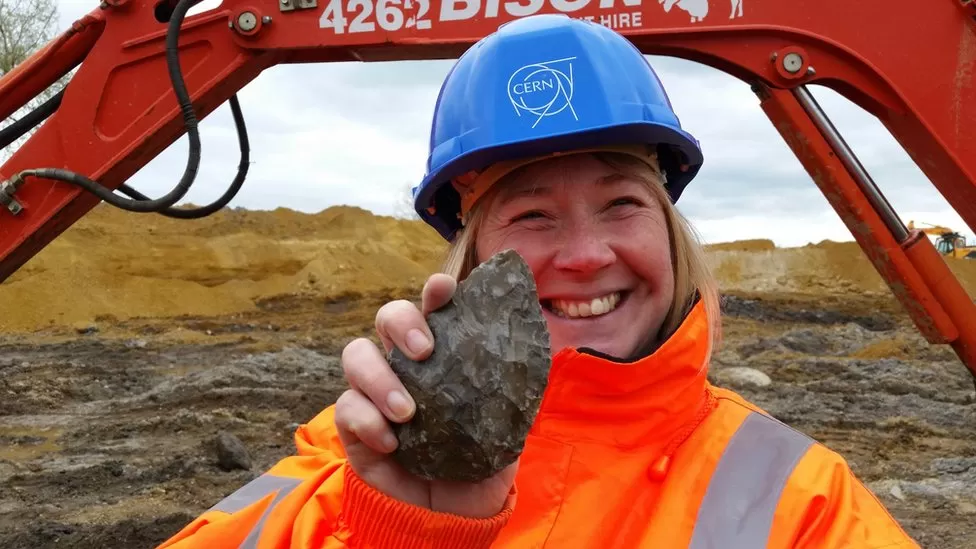 She said the couple used the axe to cut their wedding cake after "running it under the tap" to make sure it was clean.
Mr Hollingworth said only 15% of the site had been excavated and he expected more mammoth remains to be found.
"It will probably be akin to a herd rather than just a few individuals," he said.
The couple also had what Mrs Hollingworth described as "an amazing experience" when Sir David Attenborough came to see the finds in their home as part of the programme.