These Lovers Found Locked In An Eternal Embrace 6,000 Years Later Prove That True Love Never Dies
These Lovers Found Locked In An Eternal Embrace 6,000 Years Later Prove That True Love Never Dies
The Valdaro Lovers is the name of two skeletons sealed for the past 6,000 years in an eternal embrace. The skeletons were found at the Neolithic tomb near the village of Valdaro at Mantua.
Scientists believe that when they died the couple were not older than 20 years and about 5'2 "(157 cm) in height.
There was no evidence of violent death after an osteological examination; many historians believe that they died because of the flints tools they found with them.
A flint arrowhead near the neck of the male skeleton and the female had a long stones blade along her thigh, plus two flint knives below the pelvis.
The most reasonable explanation after the examination is that the flint tools were buried together with them as grave goods. It is fascinating that after their death the bodies were placed that way.
They were discovered in a necropolis, but they did not die that way by accident, however, it is assumed that they were positioned that way.
What's more impressive is that, during the Neolithic period, double burials were very uncommon which makes their position unique.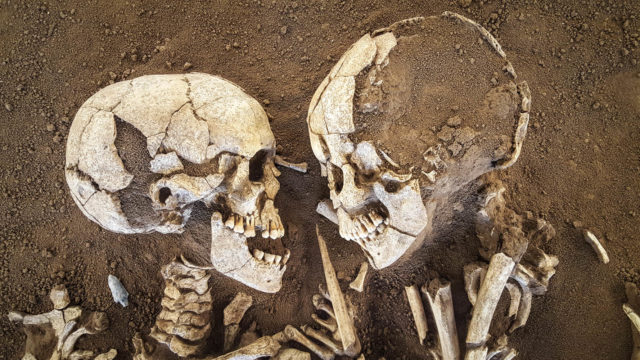 The Valdaro Lovers are the only case of a double burial in Northern Italy. When they were found, the media published photos of them, causing great excitement worldwide.
The archaeologist who led the excavation was Elena Maria Menotti. Because the skeletons were found just ten years ago, it is very challenging to define anything about them so quickly. It is a long process where each bone will have to be studied thoroughly.
Menotti decided, therefore, that the couple should not be separated and that they should be moved and preserved as they were found.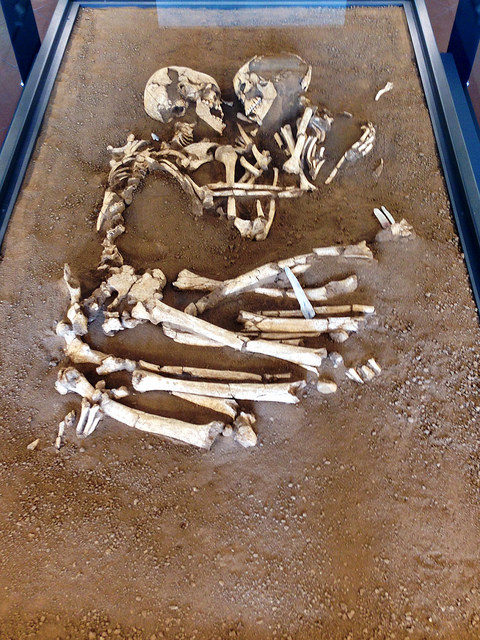 So, the excavation team dug up the block of earth in which they were discovered and placed them in a wooden box.
From the site, the Lovers of Valdaro were sent to the Musei Civici in Como. In September 2011, the skeletons were displayed in public at the Mantua's Archaeological Museum.
According to professor Silvia Bangoli, the president of the association "Lovers in Mantua", around €250,000 should be enough for the Lovers to have an exhibition center of their own, and €200,000 more could be used for a multimedia space in which the world can hear the story of the embracing lovers.
The association "Lovers of Mantua", is still seeking a home for this ancient couple where they can be displayed permanently.