ANGLO-SAXON GOLD PENDANT FOUND IN NORFOLK DECLARED TREASURE
Student's Lucky Find Worth £145,000 Is Rewriting Anglo-Saxon History
A student in Norfolk never expected that his discovery of a female skeleton wearing a pendant could rewrite Anglo-Saxon history – but researchers say that the "exquisite" piece of gold is doing just that.
"The discovery of a female skeleton wearing a gold pendant imported from Sri Lanka and coins bearing the marks of a continental king is prompting a fundamental reassessment of the seats of power in Anglo Saxon England."—According to The Telegraph.
The artefacts have now been known as the treasure of Winfarthing Women.
Through an analysis of the grave goods, namely two inscribed coins, suggests that the grave's owner was buried between 650 to 675 AD, and was an elite member of society, possibly even royalty.
One of the large gold pendants found on the skeleton is inlaid with hundreds of tiny garnets.
That artifact alone has been valued at £145,000 (almost $190,000). A delicate gold filigree cross found in the burial suggests that the woman may have been one of the earliest Anglo Saxon converts to Christianity.
Other items found in the grave included two identical Merovingian gold coins which had been made into pendants and two gold beads.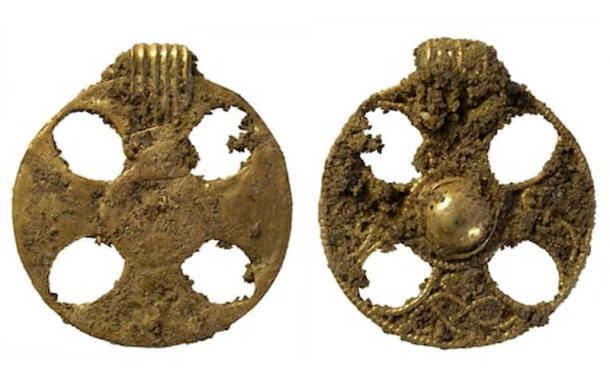 Senior Curator of the Norwich Castle Museum Dr. Tim Pestell said the craftsmanship of these objects is "equal" to the famous Staffordshire Hoard.
In an amusing turn of events, the discovery was made at a site which has been overlooked by archaeologists over the years due to the poor soil.
But Thomas Lucking, who found the site in 2015 decided that the location was worth an examination. "We could hear this large signal.
We knew there was something large but couldn't predict it would be like that," he said, "When it came out the atmosphere changed."
The Guardian reports the first artifact unearthed was a bronze bowl placed at the feet of the skeleton, when the human remains were noted Lucking paused the dig to call the county archaeology unit in.
Work continues at the site first identified by Lucking as it has been identified as a cemetery, possibly with a settlement located nearby as well. Mr. Lucking now works as a full-time archaeologist.
The Daily Mail notes that Mr. Lucking's discovery in 2016 is one of the highlights from a record year for public discoveries of ancient treasures. 1,120 treasures were found that year, making the highest figure for 20 years.
Two other interesting discoveries described at the launch of the Portable Antiquities Scheme and Treasure annual reports at the British Museum include two Bronze Age hoards and a Roman coin collection.
One of the Bronze Age hoards consisted of 158 axes and ingots while the other consisted of 27 axes and ingots.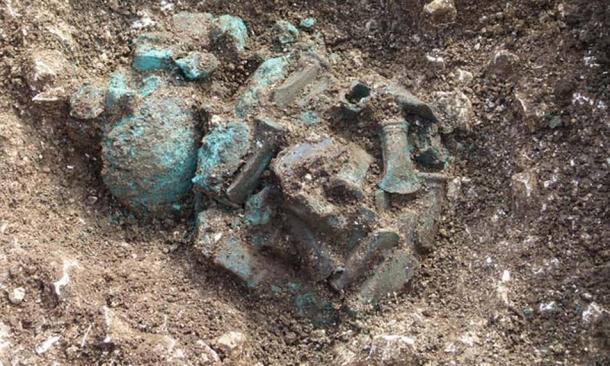 Both were found in Driffield, East Yorkshire and date to around 950-850 BC. The Roman coins numbered more than 2,000 and were discovered inside a pottery vessel in Piddletrenthide, Dorset.