Bull Kills Self After Partygoers Set Its Horns Ablaze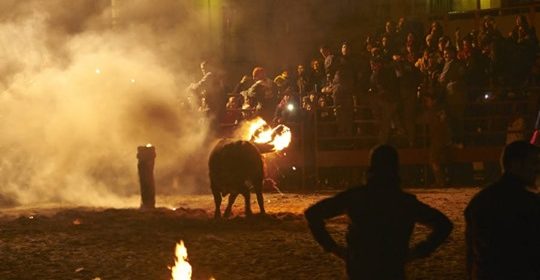 Bull dies in agony at Spanish fiesta after flaming torches are strapped to its horns
A bull died a horrible death at a Spanish fiesta after organizers strapped burning torches in front of a baying crowd onto its horns.
The terrified half-ton animal got confused and ran head-first into a wooden post-dying in the collision instantly.
Foios, a small town 10 miles north of Valencia in eastern Spain, The animal died at the burning bull festival.
It was initially tied in front of a crowd of several hundred onlookers to the wooden post in the center of a makeshift bullring.
It's horns were set alight before the animal was released.
Disorientated and confused, it ran a short distance before turning round and crashing straight into the wooden post at full speed.
Local reports said the animal, from the Salvador Domecq ranch, died immediately.
Earlier in the day the same animal had gorged a man in the leg during the 'bous al carrer' festival, which is Valencian for 'bulls in the street', during which the animals chase locals through narrow lanes and into the town square.
The local man, aged 20, was treated by paramedics at the scene.
A video of the bull dying was posted online by animal rights campaigners.
One reader commented on a local newspaper website: 'Torturing animals is not fun, it's barbaric.'
Supporters of the festivals claim the bulls do not suffer and say the tradition dates back more than 400 years.
Spanish animal rights groups say there are hundreds of similar fiestas involving burning bulls around the country.
Subscribe to our newsletter!
[newsletter_form type="minimal" lists="undefined" button_color="undefined"]