Giraffes On Way To "Silent Extinction" Due To American Trophy Hunting, Conservationists Say

The giraffe population in sub-Saharan Africa has seen a sharp 40% drop in the past 30 years, largely caused by American tourists "trophy hunting."
Only 97,562 of the tallest land mammals in the world remain, according to the International Union for the Conservation of Nature (IUCN). This is a significant drop from the number seen in 1985 when the population was estimated to be 163,450.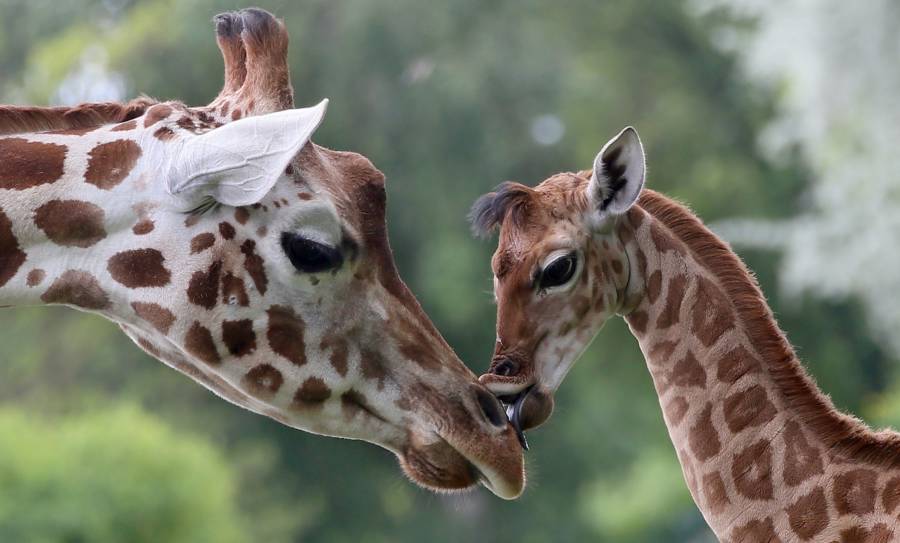 "They were quite abundant when I researched giraffes in Kenya a few of years ago and nobody questioned whether they were doing well," said Jeff Flocken, regional director of the IFAW in North America told the Guardian. "Only recently, we looked at them critically and seen this huge drop, which was a shock to the conservation community. It's an iconic animal and it's in deep trouble."
Due to the drop in the number of animals, fewer giraffes than elephants left in Africa. There are about 415,000 African elephants on the continent, according to the World Wide Fund for Nature (WWF).
Factors such as habitat loss have affected populations of giraffes, but illegal hunting and poaching pose the biggest threat. Animals are a constant target for U.S. trophy hunters who travel to Africa and pay thousands of dollars to hunt, according to the Guardian.
A team of environmental groups urged the U.S. Fish and Wildlife Service to list giraffes as endangered in hopes of preventing them from declining any further.
The conservationists have launched a petition to classify giraffes as endangered, which would help restrict hunters from importing trophies and parts from the animals, as well as raise awareness about their dwindling population.
Data collected by the groups revealed 21,402 bone carvings, 3,008 skin pieces and 3,744 other hunting trophies have been collected from giraffes over the past decade, according to the petition.
"Currently, no U.S. or international law protects giraffes against overexploitation for trade," Humane Society International trade policy specialist Masha Kalinina told the Guardian. "It is clearly time to change this.
As the largest importer of trophies in the world, the role of the United States in the decline of this species is undeniable, and we must do our part to protect these animals."
The refocus on protecting the graceful, long-necked creatures has been triggered, in part, by the images of trophy hunters and their prey spreading through the Internet.
In August, a photo of a 12-year-old hunter Aryanna Gourdin holding up the slumped head of a dead giraffe caused a social media firestorm.
Facebook12-year-old Aryanna Gourdin and the giraffe she killed on a trip to Africa.
While the image horrified many environmentalists, other Americans applauded Gourdin's hobby. She has since amassed over 50,000 social media followers.
"Although there are flaws in the current system, (poachers posing as ethical hunters for example), trophy hunting remains the only effective way to obtain money for conservation efforts," she argued in response to the backlash.
Regardless of the motivation behind the hunts, environmentalists feel that government regulation is necessary.