Roman house found in Israel covered in phallic amulets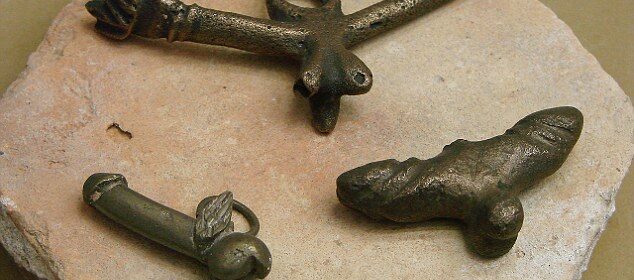 Roman house found in Israel covered in phallic amulets
Archaeologists working at the Omrit site in northern Israel have unearthed a Roman house dating back about 1,900 years.
The elaborate house was decorated with plant and animal images and probably belonged to a Roman official stationed in the area.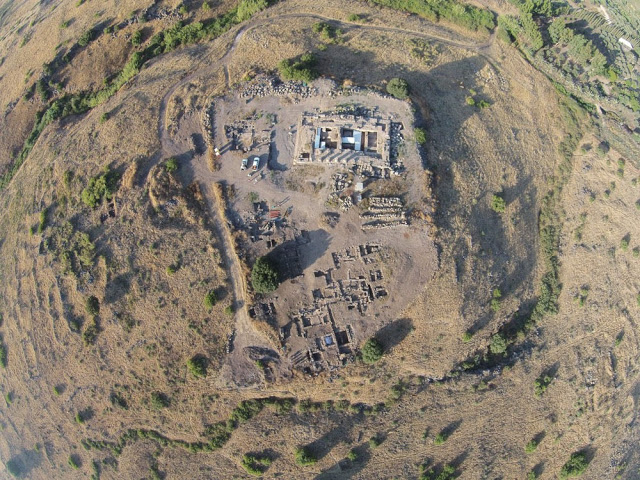 Bizarrely, the archaeologists also found on top of the house a layer of penis-shaped amulets that were mostly worn to escape misfortune.
Researchers from Carthage College in Wisconsin discovered the house in Israel, which they believe dates back to the late first or early second century AD.
Speaking at a conference in Toronto, Professor Daniel Schowalter, who led the excavation, said: 'The floor [of the house] was plastered and its walls were covered in frescoes.'
The intricate frescoes included images of trees, plants, birds, fish, and ducks. The researchers are unsure who owned the house in ancient times.
But speaking to Live Science, Professor Schowalter said: 'One would guess that it might have been commissioned by a Roman official who was stationed in the area, but it could also be the home [of] a local elite who adopted some traditional Roman motifs in decoration.'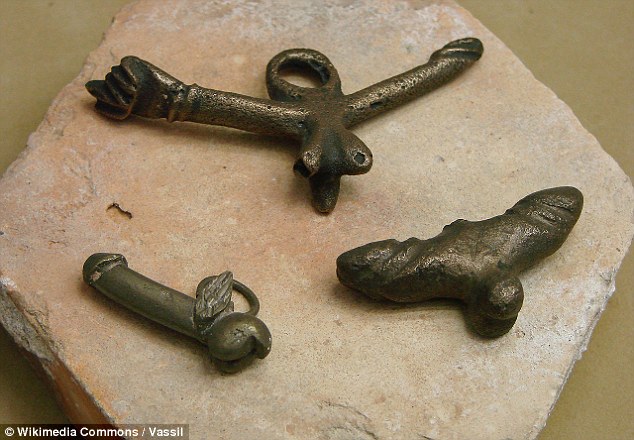 So far, the researchers have only excavated part of the house but plan to return to the site to learn more about the ancient ruins.
Professor Schowalter said that the excavated area 'was probably a courtyard, since the doorway we have opens into the 'house' proper. In other words, you could be locked out in that area.'
The house was probably demolished during the early third century, as the researchers found a layer of fill on top of the remains.
Amongst the fill were several phallus-shaped amulets. Phalluses were common symbols in Roman culture, particularly in the form of the fascinum – a phallic charm.
Bronze wind chimes called tintinnabula that featured the phallus, were produced in Pompeii to ward off the evil eye and other malevolent influences.
Penises were also carved onto doorways in the city, while statues of Priapus – god of fertility, himself often shown with a massive member – guarded gardens.
It was not unusual for Roman boys to wear the bulla – a protective amulet that contained a phallic charm – until they formally came of age.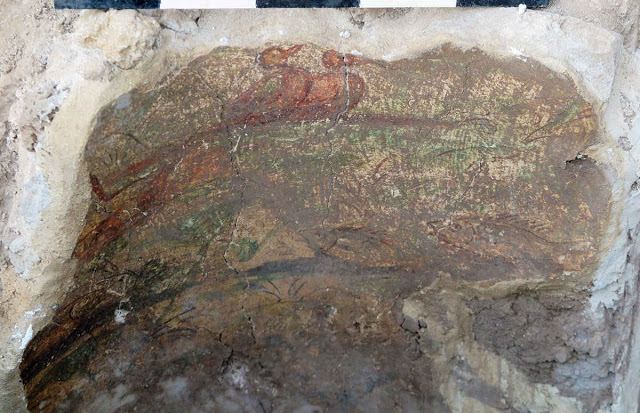 A sacred phallus was among the objects considered vital to the security of the Roman state which were in the keeping of the Vestal Virgins in Rome.